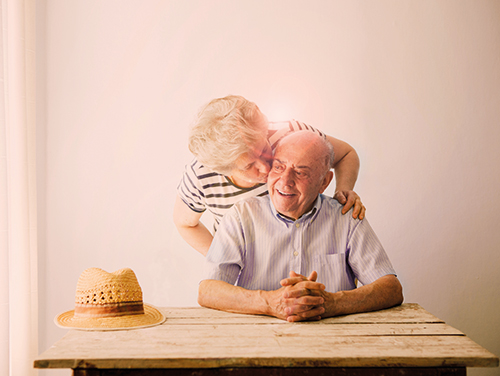 Helping people who live with dementia to stay at home longer
Staying at Home is a free carer wellbeing and respite program designed to empower and upskill carers to support a person living with dementia to remain at home for as long as possible.
With a strong focus on wellbeing and self-care, carers will be equipped to navigate the complexities and challenges of supporting a person living with dementia. As part of the program, the person living with dementia is offered an introduction to respite and receives tailored, individual support to continue meaningful and enjoyable activities for longer.
Designed as an overnight retreat, you will join other carers and people living with dementia in a supportive peer environment.
In this program you will access tailored support, education and practical suggestions from experienced staff, including nurses, allied health clinicians and others to help you support people living with dementia to stay at home and support the carers.
Topics include:
Exploring the impact of a dementia diagnosis
Planning and preparing for respite
Accessing community care supports and services
Self-care
Planning for the future
Navigating behaviour changes associated with dementia
Meaningful engagement and activity modification
Navigating physical changes associated with dementia including mobility, continence, and communication
Environmental impacts

Program locations and dates
October
Tuesday 17th - Thursday 19th October 2023
Jingili
Tuesday 24th - Thursday 26th October 2023
Conara
November
Tuesday 14th - Thursday 16th November 2023
Busselton
Tuesday 28th - Thursday 30th November 2023
Blackheath
December
Tuesday 5th - Thursday 7th December 2023
Yarra Valley
Tuesday 12th - Thursday 14th December 2023
Maleny
January
Tuesday 23rd - Thursday 25th January 2024
Conara
February
Tuesday 6th - Thursday 8th February 2024
Alice Springs
March
Tuesday 5th - Thursday 7th March 2024
Perth
April
Tuesday 9th - Thursday 11th April 2024
Mornington Peninsula
May
Tuesday 7th - Thursday 9th May 2024
Perth
Other providers
If you can't find a session in your area above, you may wish to check with other providers of the program in your state.
| Provider | Program name | State |
| --- | --- | --- |
| Carers ACT | | ACT |
| BaptistCare | | NSW / ACT |
| HammondCare | | NSW |
| Group Homes Australia | | NSW |
| Clifton Community Hospital | | QLD |
| CatholicCare | Staying at Home Program | QLD |
| Resthaven | | SA |
| Uniting Communities Inc. | | SA |
| Barunga Village Inc. | | SA |
| Central Highlands Rural Health | | VIC |
| Caladenia Dementia Care | | VIC |
| Australian Multicultural Community Services | Multicultural Dementia Friends Wellbeing Centre - A Staying at Home Program | VIC |
Register your interest
If you are interested in participating, please register your interest via the online form.