In uncertain times,
engagement matters most
Sometimes aged care homes have had to make difficult decisions – including lockdowns and restricting visits from family and friends – to protect the health of their residents. Sadly, this impacts the psychological and physical wellbeing of people living with dementia.
The Dementia Engagement Modelling Program (DEMP) provides free best practice, relationship-centred engagement strategies that help you provide meaningful engagement to residents living with dementia. It also gives you support and coaching to make sure everyone benefits from the program.
Who is DEMP for?
DEMP supports people living with dementia in residential aged care who are at risk or have become isolated, frustrated or fearful – or are at risk of developing behaviours and psychological symptoms of dementia.
We can help.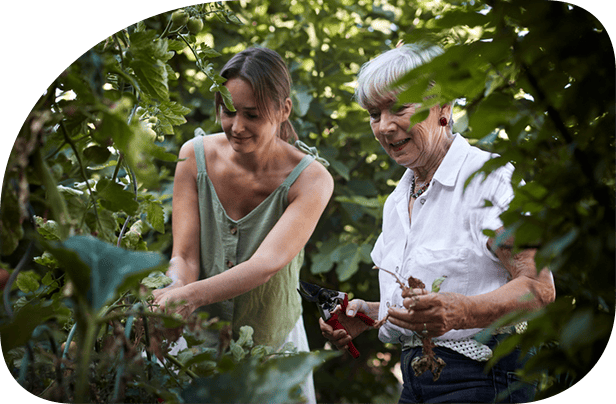 Building your own effective engagement kits
To build an effective engagement kit it is important to know the person you are supporting. DSA has developed a comprehensive DEMP Support Package that includes resources to help capture their life story and identify areas of interests and activities to include in their kits.
Included within the pack are useful templates, helpsheets, access to suppliers and links to purchase items so aged care staff can build their own tailored engagement kits for people living with dementia, or suspected of having dementia, are at risk of developing changed behaviours, or are experiencing mild behaviours and psychological symptoms of dementia, because of COVID-19 restrictions.
Activities in the engagement kit can include
Aquapaints
Child Representations (Dolls)
Music Engagement
Simulated Pets
Frequently Asked Questions
Why was DEMP developed?
This program originated during COVID lockdowns where there were significant restrictions for family and friends in aged care homes. This has had a flow on effect on the psychological and physical wellbeing of people living with dementia. DEMP was designed to support care staff in providing meaningful engagement and to improve the lives and wellbeing of residents. We now deliver it as a proactive measure to avoid future behaviours that impact care.
How does DEMP work?
Once we receive a referral, we work closely with you and other aged care staff to identify residents that might benefit from extra support and engagement. Depending on your residents' needs, we will develop tailored engagement programs and activities for individuals or groups. We also support you to develop the skills on how to implement these to get the best outcome for residents and staff alike. As the demand on the service is high, we might offer you online support, tailored engagement packages or links to resources to help you develop your own programs.
How much does DEMP cost?
DEMP is delivered as part of the Australian Government funded programs through Dementia Support Australia as a proactive measure to minimise the risk of behaviours occurring and is free to eligible aged care homes.
How to get started
You can call our 24-hour helpline on 1800 699 799, fill out the referral form or chat with us now. Our experienced consultants will be able to determine whether DEMP is suitable for your workplace.